Click here for Mouthguard Fitting Instructions
---
In recognition of April as Youth Sports Safety Month, Delta Dental of Oklahoma Foundation gave away more than 16,000 free mouthguards to athletes ages 10 and under in organized sports leagues in Oklahoma.
These Game On brand mouthguards are microwavable, remoldable, and the only ADA-accepted mouthguard.
Why Mouthguards?
"Youth sports are tremendously beneficial for children, but they do not come without risks to a child's smile," said Delta Dental of Oklahoma President and CEO John Gladden. "Mouthguards are an underutilized way to lower the risk of sports injuries, including tooth loss. We hope this pilot program will help Oklahoma coaches foster regular use a mouthguard at an early age, both in practice and during games."
"Mouthguards are a key piece of safety equipment, just like a helmet or shoulder pads," Delta Dental of Oklahoma Foundation Director Terrisa Singleton said. "Wearing form-fitted mouthguards not only protects children from damaging and painful injuries, it allows them to feel confident to perform at a higher level. This program aims to help keep kids' teeth secure and improve their long-term oral health."
For athletes ages 10 and under
Choose with or without helmet strap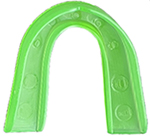 Each mouthguard comes with a case and carabiner clip.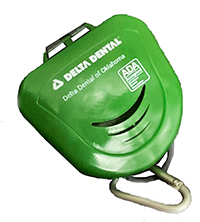 If you have questions about this program, contact us:
foundation@deltadentalok.org
405-607-4771 (OKC Metro)
800-522-0188 ext. 771 (Toll Free)
This program may be expanded to include older student athletes in the future. To receive notifications, join our email list.