New! Virtual Visits
Now through November, at-home educators (aka parents!) and school teachers can schedule a Virtual Visit with the Captain via Zoom. Slots are limited, so schedule your visit today! Details>
At-Home Virtual Visit Flyer (PDF)
School Classroom Virtual Visit Flyer (PDF)
K-3rd Dental Education Program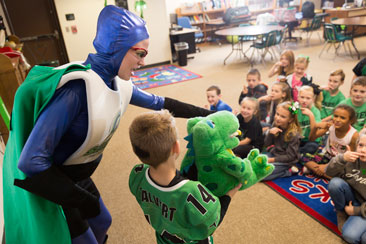 Captain Supertooth is Delta Dental of Oklahoma's oral health education program for Kindergarten through third grade students.
Using a giant toothbrush, fun props, and volunteers from the audience, the Captain presents a lively 30-minute program inspiring kids to be superheroes to their teeth!
Funded entirely by The Delta Dental of Oklahoma Foundation, the program is provided free of charge to schools. Participating children receive complimentary toothbrushes and brush charts.
To book a visit for your school, go to www.CaptainSupertooth.com
Website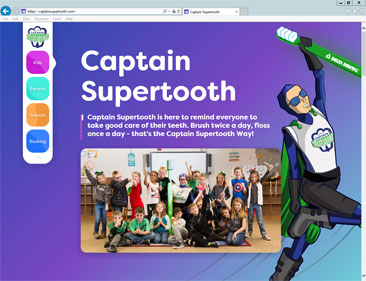 Visit CaptainSupertooth.com for:
Games for Kids
Tips for Parents
Online Booking Form for Schools
---
Call for Auditions!
We are seeking one or more contract actors to back up our primary performer on an occasional, as-needed basis. All shows are during school hours and performers can choose shows that work with their schedules.
We're looking for individuals who have a good rapport with children ages 5 through 9, and can memorize and present a 30-minute script, as well as improvise as needed. This is an ideal gig for college students, actors, or others who love to act and want flexible, occasional work.
Download our flyer for more details.