In-Person & Virtual Visits
Oklahoma teachers can schedule an in-person or Virtual Visit with the Captain. A limited number of summer appearances are available for health fairs, day camps, and childcare centers.
Slots are limited, so request your visit today! Details>
Pre-K through 3rd Dental Education Program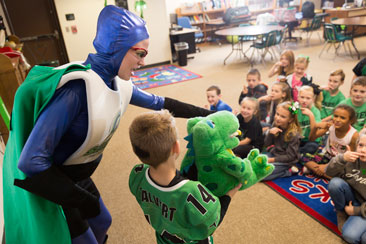 Captain Supertooth is Delta Dental of Oklahoma's oral health education program for Pre-K through third grade students.
Using a giant toothbrush, fun props, and volunteers from the audience, the Captain presents a lively 30-minute program inspiring kids to be superheroes to their teeth!
Funded entirely by The Delta Dental of Oklahoma Foundation, the program is provided free of charge to schools. Participating children receive complimentary toothbrushes and brush charts.
To book a visit for your school, go to www.CaptainSupertooth.com
Website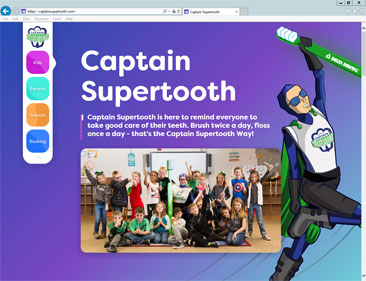 Visit CaptainSupertooth.com for:
Games for Kids
Tips for Parents
Online Booking Form for Schools
---