Delta Dental of Oklahoma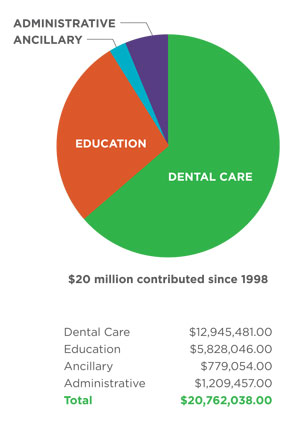 As a not-for-profit dental benefits company, it is the mission of Delta Dental of Oklahoma (DDOK) to improve the oral health of all Oklahomans. DDOK strives to accomplish this mission by:
providing quality dental benefits plans to more than one million Oklahomans, and
by donating 50 percent of annual contribution to reserves to its Foundation to advance dental education and access to care.*
Delta Dental of Oklahoma Foundation
The Delta Dental of Oklahoma Foundation is a 501(c)3 charitable foundation that seeks to improve the oral health of Oklahomans by:
In 2018, the Foundation celebrated its 20th anniversary, which coincided with Delta Dental of Oklahoma passing the $20 million mark in total contributions. Of course, funding is only the beginning. These programs would not be possible but for the tireless efforts of volunteer dental professionals, staff and educators.
We are also grateful for the Delta Dental of Oklahoma subscribers, providers, clients and broker network, whose support of Delta Dental allows our Foundation the resources to make a positive impact on the lives of Oklahomans through advancement of oral health.
---
Historical Funding Pie Chart
| | |
| --- | --- |
| Dental Care | $12,945,481.00 |
| Education | $5,828,046.00 |
| Ancillary | $779,054.00 |
| Administrative | $1,209,457.00 |
| Total | $20,762,038.00 |
*Foundation funding is based on a three-year rolling average of DDOK's annual net contribution to reserves, not to exceed the year's contribution to reserves.