Scholarships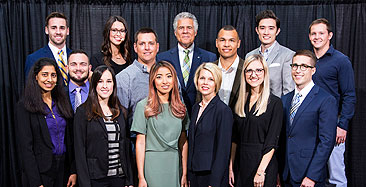 Each year, Delta Dental of Oklahoma Foundation awards $5,000 scholarships to outstanding OU College of Dentistry dental students. Pictured above with Delta Dental President/CEO John Gladden, the 2017-18 scholarships recipients are:
Tara Beard, Meeker, CO
Joshua Brock, Lawton, OK
Brittany Hand, Altus, OK
Chris Hunt, Jones, OK
Bryce Lamer, Garber, OK
Melissa Macy, Wichita, KS
Charles Mosley, Hillsboro, OR
Brandon Onley, Stillwater, OK
Jordan Pierce, Ardmore, OK
Clark Plost, Tulsa, OK
Stephanie Sugg, Shawnee, OK
Lynna Van, Broken Arrow, OK
Scientific Day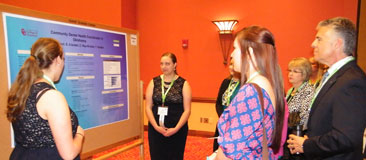 OU College of Dentistry holds an annual Scientific Day where dental students, dental hygiene students, and residents present findings from their research projects or describe new and innovative clinical techniques. Delta Dental of Oklahoma Foundation is proud to sponsor the event and our staff enjoys the opportunity to meet the students and learn from their research.
Student Research Projects
The Foundation also provides research stipends for student reseach projects each year. This year's sponsored student was Srujani Gadusu (DS3) for her research on "Evaluating the Retention of Sealants in Young Permanent Teeth through Axium."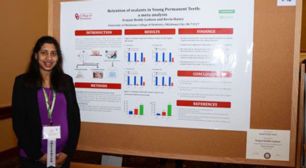 OU Legacy Project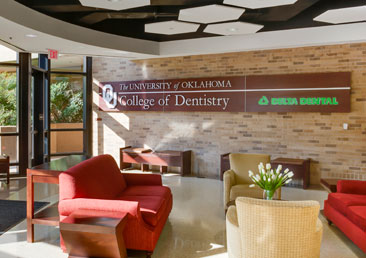 The College of Dentistry building, located on Stonewall Avenue in Oklahoma City, has been home to OU's dentistry students, faculty, and staff since 1976. During that time, only minor renovations and technology upgrades have been made to the facility.
In 2013, Delta Dental of Oklahoma Foundation made the largest single gift ever to the OU College of Dentistry - a $3.2 million lead gift to the Legacy Project capital campaign for the renovation of the college's building. The renovations allowed the College to integrate a comprehensive and patient-centered clinical delivery system and helped to ensure that the College of Dentistry continues its tradition of providing an outstanding, challenging education and state-of-the-art training environment.
More >
Student Clinic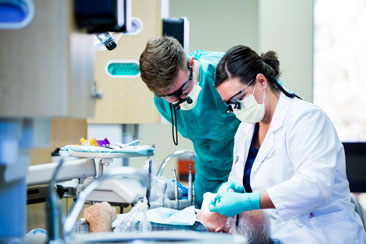 The student clinic, where patients are treated by dental students under the direct supervision of faculty, is open to the general public. Patients receive low-cost quality care in an educational environment. A wide range of services are available, including crowns, dentures, and more. Annual Delta Dental grants help subsidize costs for qualifying low-income patients. More >
OU Kids' Day
OU Kids' Day is an annual one-day clinic event held at the OU College of Dentistry that delivers free dental care for children ages 4 to 12 and free screenings for children ages 1 to 3. Services are provided by OU dental students under the supervision of licensed dentists. Delta Dental Foundation staff members provide pre-registration services for the event so that it does not have to operate on a first-come, first-served basis. Learn more >