MouthScience Kit: Power of pH Lesson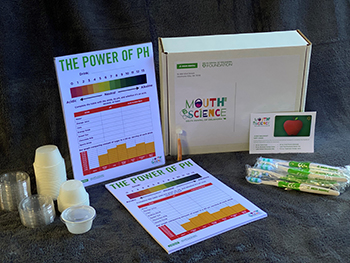 Our MouthScience® Power of pH Lesson provides 3rd through 6th grade students with an engaging, hands-on experiment that demonstrates the levels of acid and sugar contained in common drinks. The purpose of the exercise is to motivate students to make intentional and healthier drink choices that will decrease their chances for cavities and gum disease.
Our free MouthScience® Kit provides educators with everything they need to conduct the lesson. This instructional video will walk you through the activity step-by-step, ensuring a fun and educational experience for you and your class!
Free to Oklahoma Schools
MouthScience Kits are available free of charge for use in 3rd through 6th grade classrooms in Oklahoma. Each kit contains all supplies needed for one (1) class of up to 30 students to carry out the hands-on activity.
MouthScience Kits must be requested and conducted by a teacher, school nurse, dental professional or dental, hygiene or nursing student.
For more information, contact Teri Bachhofer, Education Outreach Specialist.
Program Resources
Power of pH Lab Sheets
(Note: 30 color printed lab sheets are included in the MouthScience Kit.)
---
MouthScience® is a community service program of Delta Dental of Oklahoma Foundation
MouthScience® is a registered trademark of Delta Dental of Oklahoma Foundation
DISCLAIMER: Although reasonable efforts were made to confirm the accuracy of the information, Delta Dental of Oklahoma and Delta Dental of Oklahoma Foundation do not make any representation or warranty, expressed, implied, or statutory, as to the accuracy, reliability, completeness, applicability, or fitness for a particular purpose of such information. These materials are not a substitute for the advice of a qualified health professional. Delta Dental of Oklahoma and Delta Dental of Oklahoma Foundation expressly disclaim all liability for the use of these materials, and for any claims, actions, demands, or suits arising from such use.