School-Based Sealant Program
DDOKF conducted school-based sealant clinics in Oklahoma schools from school year 2015-16 through 2018-19. During this time, we developed a program model that operates cost-efficiently within Oklahoma state dental law and utilizes best practices and the best equipment and supplies. While we no longer provide direct services, upon request we will gladly provide our program documents to organizations interested in conducting school-based sealant programs.
Program Statistics
2015-16 School Year
2016-17 School Year
2017-18 School Year
2018-19 School Year
For more information, contact Terrisa Singleton at tsingleton@deltadentalok.org or 405-607-4772.
Why School-Based Clinics?
School-based sealant clinics provide free dental sealants, fluoride varnish and oral health instruction at school during school hours.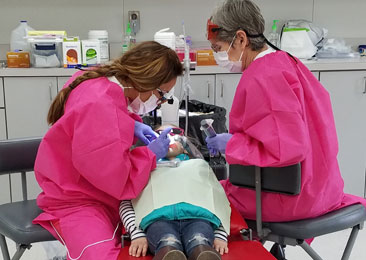 This is important because sealants need to be placed as soon as possible after permanent molars come in: That's around 2nd grade (1st molars) and 6th grade (2nd molars). A school-based sealant program helps ensure that at-risk children receive this important preventive treatment in a timely manner and refers them to nearby dental practices for ongoing care.
---
---
Information and Research
What Are Sealants? Details and Photos
By Delta Dental of Idaho
Dental Sealants Prevent Cavities
By Centers for Disease Control & Prevention
School Sealant Programs
By Centers for Disease Control & Prevention
What are Sealants?
Dental sealants are thin plastic coatings that are applied to the chewing surfaces of molars to seal out cavity-causing bacteria.
---
Sealants Prevent Cavities!
9 out of 10 cavities occur in molars
Sealants prevent 80% of the cavities in molars!
Dental sealant placement is easy and painless. No shots or drilling.
---
Tooth without sealant.
Notice the pits and grooves that can easily trap the food and bacteria that cause cavities.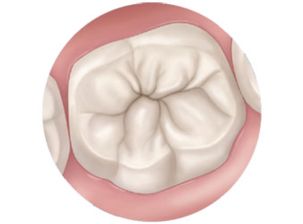 ---
Sealant is applied.
Sealant material is painted on and hardened with a curing light.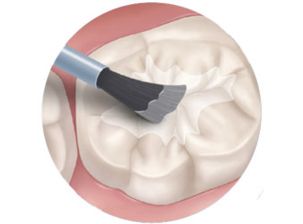 ---
Tooth with final sealant.
The pits and grooves are sealed and the tooth's biting surface is protected for years.