2021 Impact Report
In 2021, Delta Dental of Oklahoma Foundation donated $5,618,488 to 48 programs across the state, with almost 70 percent of this funding dedicated to providing dental treatment to underserved and vulnerable populations. See list of all 2021 grant recipients>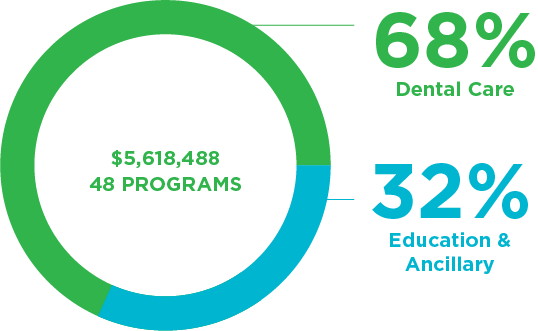 Grants to Free Clinics & Programs
In 2021, DDOK Foundation awarded $1,154,950 in grants to clinics and programs that provide free dental care to underserved and vulnerable populations.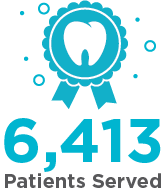 COVID-19 Dental Emergency Program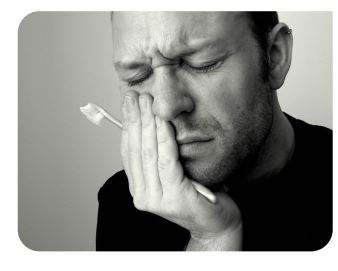 In 2021, DDOK Foundation continued our program to divert dental patients away from hospital emergency departments (EDs) during the COVID-19 Pandemic. Our Dental Care Navigators helped connect patients to the best resources for their needs. Our Dental Emergency Fund covered the costs required to help qualifying, low-income patients access treatment.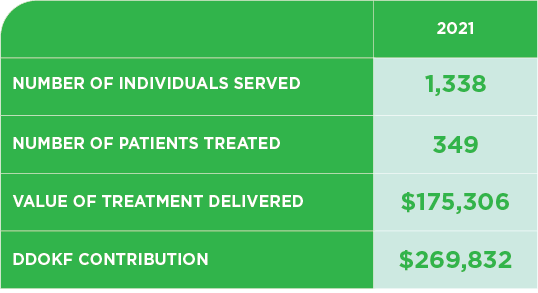 Oklahoma Mission of Mercy
We serve as co-producer, along with the Oklahoma Dental Association and Oklahoma Dental Foundation, of this annual two-day free dental clinic. We also serve as the underwriter of the event and have contributed a total of $1,300,000 since 2010. DDOK employees have volunteered more than 7,000 hours at OkMOM events since 2010.
Due to the Pandemic, OkMOM was cancelled in 2021 and 2022, but is scheduled to be held February 3-4, 2023, in Shawnee.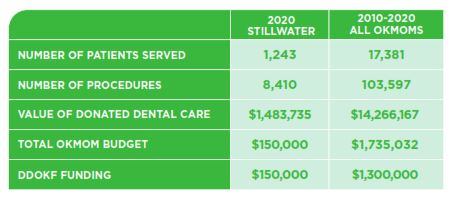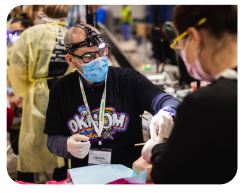 Oral Health Education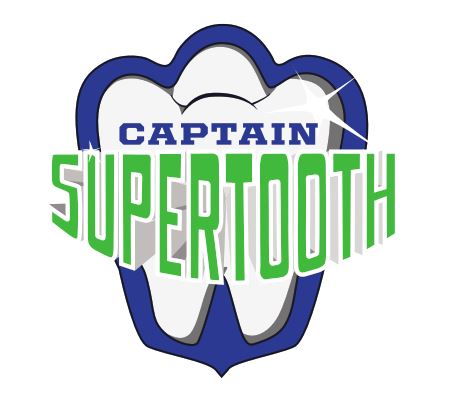 Our Captain Supertooth made virtual visits to Pre-K through third grade students during the Pandemic.


---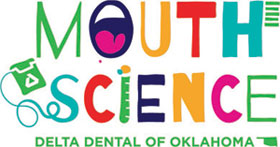 Our new hands-on class uses basic experiments to educate third through sixth grade students about the science in their mouths.


Scholarships
OU COLLEGE OF DENTISTRY
Eleven (11) outstanding dental students who plan to practice in Oklahoma received $10,000 scholarships from the Delta Dental Scholarship Fund at the OU College of Dentistry. DDOK was thrilled to have the opportunity to increase these scholarships from $5,000 per student awarded in prior years. Since 2001, more than $1 million has been awarded to OUCOD students from DDOKF.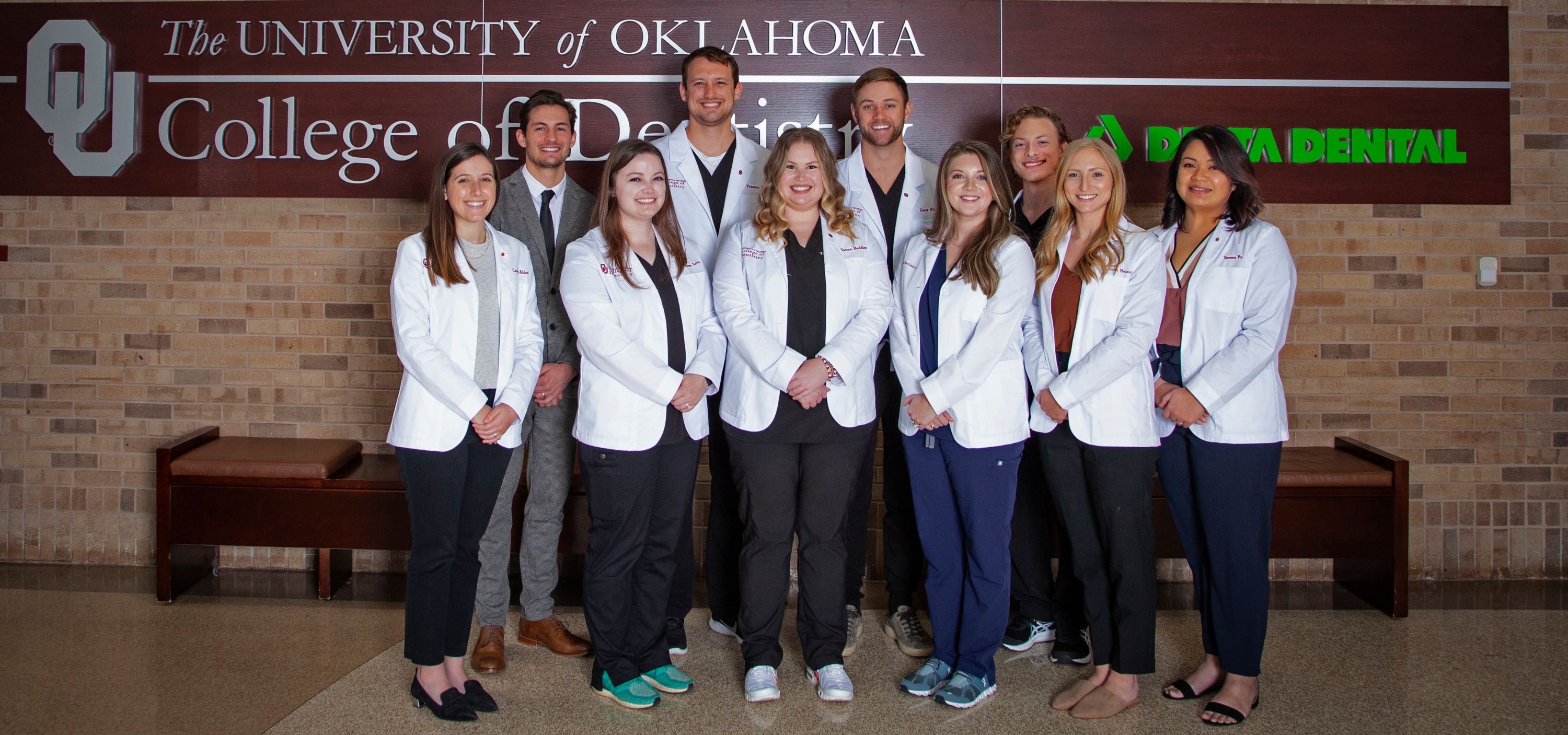 2021 Recipients:
Carley Abbott – Noble
Conner Brasher – Edmond
Madison Campbell – Lawton
Tanna Heddlesten – McAlester
Jack Koszykowski – Oologah
Lauren Means – Lawton
Zane Mills – Sedan, KS
Preston Patrick – Tahlequah
Chelsea Sa?o – Broken Arrow
Thanh Truong – Broken Arrow
Teresa Vu – Wewoka
---
DENTAL HYGIENE SCHOLARSHIPS
In 2021, DDOKF established four (4) $2,000 annual scholarships for dental hygiene students. Each year, the scholarships will be awarded to one hygiene student at each of the four OU Dental Hygiene Programs located on the following campuses: OU College of Dentistry in Oklahoma City; Southern Oklahoma Technology Center in Ardmore; Tri-County Technology Center in Bartlesville; and Western Technology Center in Weatherford.
2021 Recipients:
Britney Brzoticky - Woodward
Emily Forthun - Oklahoma City
Alissa Meadows - Edmond
Meghan Souders - Tulsa
---
PRE-DENTISTRY ENDOWED SCHOLARSHIPS
We proudly support undergraduate students planning to enter the profession of dentistry by providing annual pre-dentistry scholarships at several state universities. Each of the following students received a $1,000 scholarship for the 2021-22 school year:
East Central University (Ada)
Saira Ghimire
Oklahoma State University (Stillwater)
Crest Koemel
University of Oklahoma (Norman)
Gri?ffin Maxwell
University of Central Oklahoma (Edmond)
Ghazal "GG" Hesami
Southeastern Oklahoma State University (Durant)
Madison Hunt
Seal Oklahoma Students
We partnered with the Oklahoma Dental Hygienists Association for a joint community service projected called Seal Oklahoma Students (S.O.S.), a clinic that provided free dental sealants to students at Lawton Eisenhower Elementary.